Frank Ceara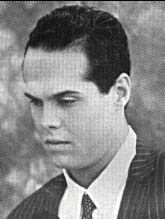 Click Here to see complete picture.
Birthdate: March 20, 1967.
Birthplace: Santo Domingo, Dominican Republic.
Artistic achievements (Until 1994):
1995
Represented his home country in Viña Del Mar Festival, Chile.
1994
Presents his concert "Lluvia de Besos" (Rain of kisses) praised by critics and the public. Additional presentations were given by popular request.
His song "Lluvia de Besos" is among the top songs locally and internationally. This song is the theme of the soap opera "Amor de Papel" (Paper Love).
Launches the song "Quedan Palabras" (Words Remain) to the international market as part of the album Bachata Magic II.
Consolidates his image with regular presentations in Café Capri, Hotel Santo Domingo and Hispaniola, Museo del Jamón in Santiago.
1993
Nominated for a "Lo Nuestro" award as Best New Artist, along with Jon Secada, Christian Castro and Paulina Rubio.
Frank Ceara and Bachata Magic receive the "Aplauso '92" award as Best New Artist in Miami.
Given the warm reception from the international market, receives requests from the media for live presentations.
Participates in the concert "La Música de Juan Luis Guerra" (The Music of Juan Luis Guerra), in the Teatro Nacional.
1992-1991
Records the first album "Bachata Magic", with musical arrangement by Manuel Tejada.
Represents the Dominican Artistic Delegation in Expo-Sevilla, Spain.
Records 222 jingles for local and overseas products, companies, radio and TV stations.
Lead singer of the dominican rock group Empiphis.
---
Back to Tambora y Güira.