Ramón Báez
La Fiera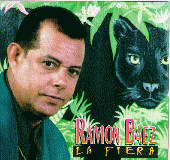 Ramón Báez was born in La Vega, Dominican Republic in 1952. His family moved to Santo Domingo when he was very young. He began his musical career at the age of 12 with "Cuco Valoy y su Orquesta". he stayed 7 years with them and then began to work with "Koqui Acosta y su Orquesta". He then worked with Jerry Vargas y su orquesta. Later he joined what was to be his last band in D.R. he worked with "Los Hermanos Rosario".
Consequently he left the D.R. and moved to N.Y. where began to work with "La Gran Manzana" (Victor Roque & Henry Hierro). He remained with La Gran Manzana for 2 years before moving to Miami. After moving to Miami he played with various local groups the most notable being, "La Gran Unión". He then decided to form his orchestra and produce LPs. That was the birth of what is now known as Ramón Báez "La Fiera". He produced his own album under his label "LA FIERA PRODUCTIONS" in Miami. His album debuted in August, 1995. The album is mixed in the sense that it gives you merengue and bachatas. The band is infused with talent in all sides. The front men are Raúl "El El&eaute;ctrico" Rivera(PR), Frankie Báez(DR), and Rigoberto Ayala(HON.) Between these three men you have choreography and harmony. On rest of the band we find Anthony Rodríguez at the guira, he's only 15 years old and had once been offered a job by Toño Rosario, but because of school declined. Gilberto at the Congas, Omar at the Tambora, Javier at trumpet, Fernando at tenor sax, and the anchoring point of this band J. Manzueta at high sax. Manzueta not only executes his instrument to perfection he also wrote and did the composition for a few of the songs on the album. Sergio plays second trumpet, Tony plays base guitar, and Eddie "EL MISTERIO" plays the piano.
His current CD is named after one of the songs included in it, "Bochinchero" (trans: "He who likes to party and go out").
Information courtesy of: Henry Batista